At the beginning of Lockdown, two old school friends who had been talking about starting a drinks company finally quit their jobs to take the plunge into the world of entrepreneurship.
Taking their passions and all they had learnt, they launched their very own brand, Witch Kings Rum. A bohemian "liquid flavour art" company that embodies their love of creativity, the arts, and quality.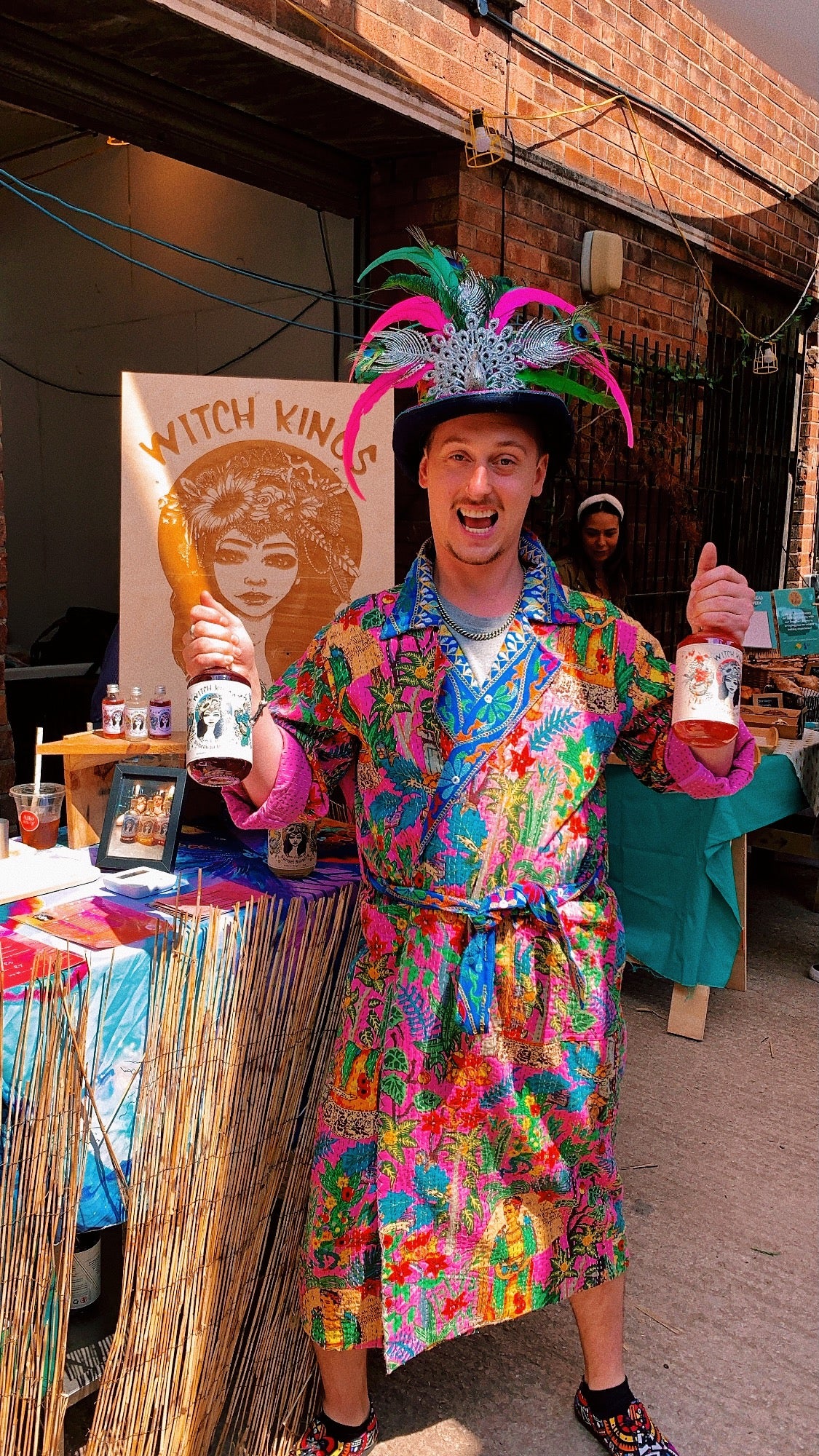 Maxi
Maxi started his journey in the French Alps as a chef in private chalets. He then moved onto more conceptual work designing cookbooks and menus within the tourism hospitality industry. Maxi first envisioned Witch Kings Rum during a large project in Devon developing a sustainable restaurant. Feeling inspired by not only the fantastic local producers but also the design of a new bar menu, Maxi replaced the bar's soft drinks with homemade cordial concoctions.
Maxi spends his days overseeing production, leading the talented team to perfection. He spends the rest of his time in research and development, designing new flavours and products to bring to our wonderful customers.
"I am incredibly proud of where Witch Kings is today and what we have already achieved. I wholeheartedly believe in what we do and the quality of our product and our brand. In the future I see us really cementing our hospitality side and our cocktail bar concepts, as well as spreading the Witch Kings story. In the long term, I want the Witch Kings brand to champion creativity and arts, and be in a strong enough position to give back to the creative community that continues to support us."
Fun Fact: Maxi loves to ski, and plays the ukulele - could he do them at the same time? Probably, to be honest!
Biz
Biz (a.k.a. Brandon M. Bizzle) has been enjoying life in Manchester for the last 8 years, having moved after completing their Music degree in Leeds. Soon enough, they found themselves in the opening bar team for The Botanist on Deansgate, trained extensively in cocktails and customer service, and designing two popular cocktails for their nationwide menu. Manchester's booming underground music & arts scene then led them to start a freelance business in Live Visuals for music events, which itself evolved into launching two record labels - Traffic MCR and You Might Not Like This.
Finally launching Witch Kings Rum brought together all these experiences into a unified power of purpose!
Biz complements & balances Maxi's talents, bringing cross-functional experience in bars, events, and business development. A natural born editor, they uniquely blend creative conceptualisation with a holistically analytical perspective.
"After having the dream for so long, finally getting to develop this business has been a wonderful journey - our initial plans didn't expect the live events side to grow so quickly, but within a year we found ourselves with a beautiful event series at Block 23! Now we're on the hunt for a permanent site where we can consistently curate innovative events. I can't wait, for I know  so many amazing creatives we're still to work with. Imagine Jazzy Sundays, Wacky Wednesdays, Funky Fridays, Bluesy Mondays - a different genre every day - and cocktails all the way."
Fun Fact: Biz is proficient on over a dozen instruments, but can make musical patterns from any sound source - put them to the test at one of our events!